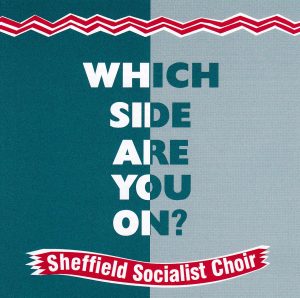 This was our first recording, made in November 1990, recorded at Lodge Moor Hospital, Sheffield. Sound engineer: Kev Jackson. Digitally remastered by Ian Stead. Financial contributions from Sheffield NUJ and NALGO (now UNISON).
Which Side Are You On? Made popular in the American labour movement during the Harlan County miners' strike in 1931, there have been many versions of this song. Ours was written by choir members in 1988 to tell the story of the Keetons' strikers in Sheffield. Thirty eight men were sacked in 1986 after a strike ballot, and replaced by non-union workers. At the time of recording, there was still a 24-hour picket outside the factory, with eighteen keeping up their fight for justice.
Derry Streets Sung to a traditional Irish melody 'Foggy Dew', and arranged by Ivan Sears and Peter Toolen. This song marks the day in January 1972, known as Bloody Sunday; when British troops opened fire with live ammunition on a peaceful civil rights demonstration in Derry, in the North of Ireland, killing fourteen men.
Mevi Lyetu Afurika "There is repression in Africa, deliberately, in order to colonise us. Look carefully and see how time has turned the wind of change to freedom. Colonialism is coming to an end." A song from Southern Africa. After Namibia became independent, we changed the words to include Eritrea, commemorating the many decades that the Eritreans had been fighting for self- determination.
4. Hino Dos Grevistos "Our day is come, companheiro. Ours is the work of our own hands. And these machines we serve, they belong to us. The wealth we generate is ours alone." A strikers' song from Sao Paulo, Brazil, 1978. Arranged by Rubens Ricciardi in 1989, who dedicated it to John Hamilton (English translator) and the Nottingham Clarion Choir.
Buddy, Can You Spare A Dime?
Written during the Depression in 1932 for the Broadway show 'Americana' by Jay Gorney and 'Yip' E.Y. Harburg. Harburg, who wrote the words, is said to have been moved by the plight of so many who had once worked hard for the 'American Dream', now reduced to begging. Arranged by Jane Edwardson of our choir. Copyright: Warner Chappell Music Ltd.
The Internationale Written in June 1871 by Eugene Pottier, a woodworker from Lille, shortly after the Paris Commune was brutally suppressed, and set to music by Degeyter in 1888. The Internationale is now the anthem of socialists the world over. This arrangement is by Rudolf Liebich.
Foolish Notion Composed by Holly Near in 1980, and arranged by Mary Fagan and Steve Lodder. "Why do we kill people who are killing people, to show that killing people is wrong? What a foolish notion." Holly Near sings this song on her album 'Fire in the Rain'. Copyright: Hereford Music, USA.
Dimna Juda A traditional village song from Bulgaria, arranged by Philip Kouter, who played an important role in bringing Bulgarian music – with its open-throated singing technique, nasal quality, and hypnotic drones – to western ears. Dimna Juda tells the story of a witch who uses the bones of young men and boys to build her castle. It is sung by women of the choir. Copyright: State of Bulgaria.
Solidarity Words by Berthold Brecht, set to music by Hans Eisler, 1930. Brecht was a life-long socialist and wrote this against the rise of facism in Germany.
Senzenina "What have we done? Our crime is being Black". Sung in the Xhosa language, this is a lament against the Pass Laws in South Africa, under which Black people were forced to carry identity papers at all times.
No Deportations The London choir Raised Voices wrote this song for a "No Deportations" demonstration in 1987. As well as opposing the Nationality Act and racist immigration controls, it calls for an end to police fishing raids on East End factories, allegedly to 'pick up illegal immigrants' but actually harassing and intimidating the entire non-white community.
Umkhonto We Sizwe The anthem of Umkhonto We Sizwe, 'The Spear of the Nation', celebrates the skill and courage of the armed wing of the African National Congress in South Africa. It was written by Amandla, the cultural ensemble of the ANC, at the turn of the 1980s to a popular tune. We learnt it from Cor Cochion, the Cardiff choir.
Bread and Roses
James Oppenheim, a member of the IWW or 'Wobblies', wrote this after seeing a banner "We Want Bread, And Roses Too" carried in the 1912 women textile workers' strike in Lawrence, Massachusetts, USA. Music by Caroline Kohlsaat, arranged by Emer McKay and sung by women of the choir.
Sandinista Anthem Composed by Carlos Mejia Godoy during the 1970s insurrection against the Somoza dictatorship, this is the anthem of the FSLN Sandinista Liberation Front of Nicaragua. We sing it for the people of Nicaragua, who are still fighting for freedom from US imperialism.
We Shall Not Give Up The Fight This song comes from the Church of South Africa.
Never Turning Back Composed by Pat Humphries. Judy Small sings this on her album 'One Voice in the Crowd'. Copyright: Crafty Maid Music (Australia)
Nkosi Sikelel' iAfrika Composed by E.M. Sontonga in 1897 and adopted by the African National Congress in South Africa as its anthem in 1925. We were proud to sing this in Sheffield Cathedral on 11th February 1990, the night that Nelson Mandela was released, after 27 years a prisoner of the racist Apartheid regime. The first section is in Xhosa, and the second in Sotho. Arranged by John Jordan.
Power In The Union Sung to the tune 'Rally Round the Flag' of the US Civil War, with words written by Billy Bragg during the miners' strike of 1984/5. Arranged by Jane Edwardson, then of our choir. Copyright: Chappell Music Ltd.
Freedom Is Coming Another song originating in the Church of South Africa.
Polegnala E Todora A modern Bulgarian love song, arranged by Philip Kouter, which tells of a young woman, lying under an olive tree. Sung by women of the choir. Copyright: State of Bulgaria.
All Or Nothing Words by Berthold Brecht, set to music by Hans Eisler. Arranged by Glen Gordon of the band 'The Happy End', June 1989.
The Freedom Tide Is Rising Composed by Michelle Lanchester in 1988 and arranged by Ysaye M. Barnwell of 'Sweet Honey in the Rock', this song celebrates the mass struggle for liberation from Apartheid in South Africa. "Freedom's spirit cannot be enslaved." Raised Voices from London taught it to us at Laurieston Hall People's Centre in 1990.
Buy this CD.. contact CDSales@socialistchoir.org.uk